---
Welcome to Trophy Lodge, NT
***Bookings are on hold until Trophy Lodge receives a business licence for the Thaidene Nene National Park Reserve. This is currently being worked on and our website will be updated when a business licence is issued. Until then we will not be accepting any bookings***
Fish for Lake Trout, Arctic Grayling and Northern Pike at the remote untouched East Arm of Great Slave Lake, one of the world's largest lakes. It is fishing at its best in a remote Canadian setting.

On Great Slave lake , Lake Trout and Arctic Grayling are abundant, you can also fish for great Northern Pike, White Fish and Inconnu.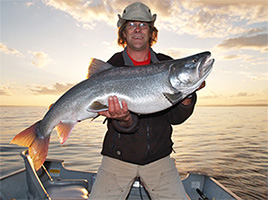 Lake trout are flashy surface fighters with plenty of strength for running and tricks. Five to ten pounds are normal weight 20 to 40 pounds are Trophy Trout!
Be sure to have a look at the 58 pounder mounted at the Lodge. You can troll of jig for lake trout with spin cast reels and 10 to 20 pound nylon lines and a variety of bait. Trout are also caught by fly fishermen, especially in the rivers where you also catch Arctic Grayling.
Arctic Grayling are small mouthed with spectacular colouring and a large sail-like dorsal fin. The grayling average two and a half pounds but can reach up to five. Grayling are caught in the mouths of rivers and in the lake using light tackle and very small hooks or flies.